Updates from July 2023
Quiz configurations and scheduling evaluations.
---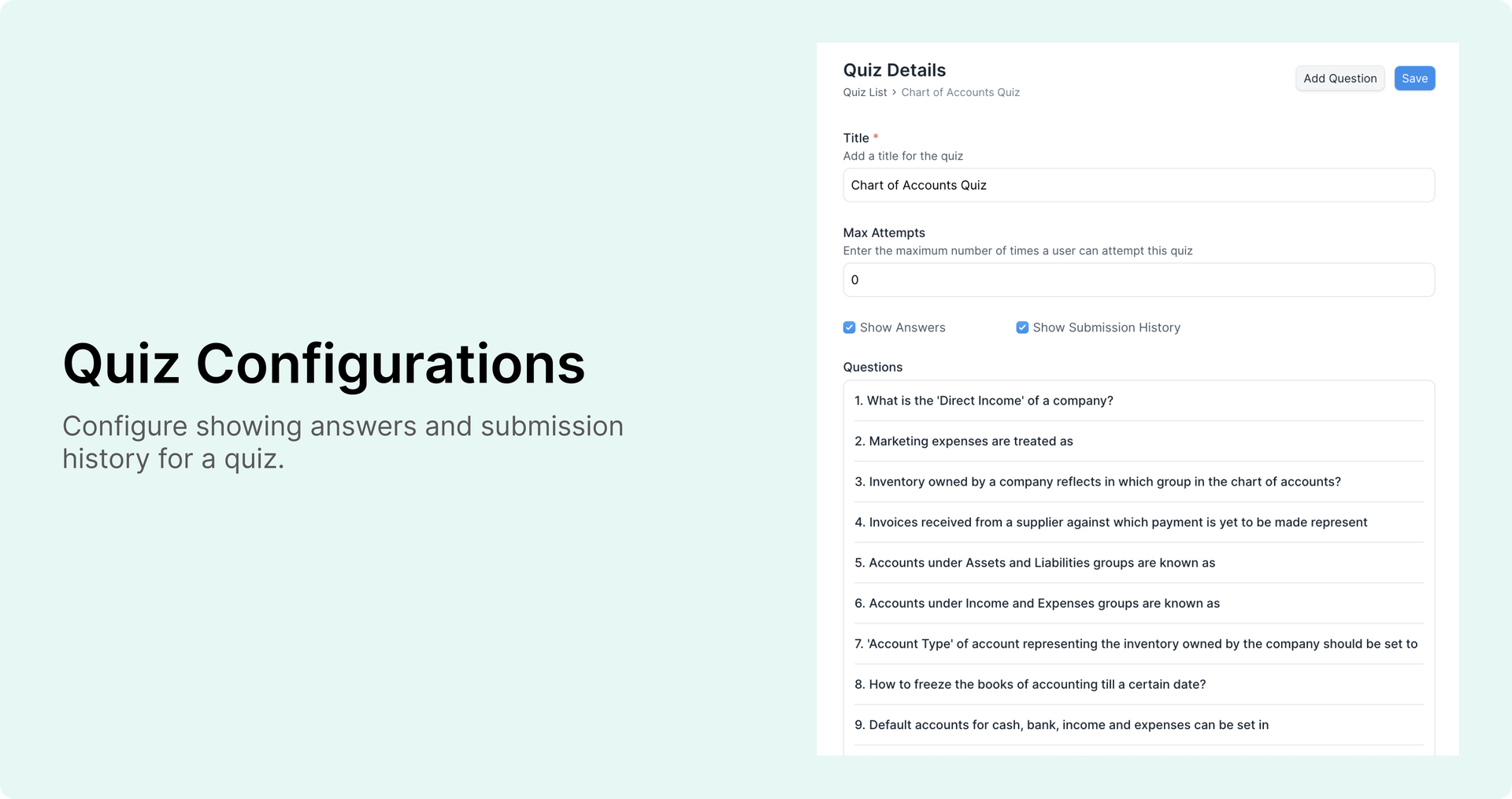 Configure Showing Answers for Quiz
In a quiz, after each question, users could see the correct answer. Some of you did not want to show the correct answer to the users immediately. People wanted the flexibility to show only the score at the end of the quiz.
We heard you. When creating a quiz you can now decide if you want to show the answer to users using the Show Answers option. If you enable this option, users will see the correct answer after each question. If you uncheck it, then users will only see the score at the end of all questions.
Show Submission History of a Quiz
A user can submit a quiz many times if no Max Attempt is set for it. Instructors and Moderators use the LMS Quiz Submission doctype from the desk to check all the previous submissions made by users. But a user themself never see any information about their previous submissions.
Quiz now has a new option called Show Submission History. If you enable this, a user will be able to see all their previous submissions after each quiz attempt.
Also, when a moderator evaluates the quiz of a class student, they can also see all the previous submissions of that student there.
Schedule Evaluations from Class
Students of a class can now schedule evaluations from their class. From the progress page, they see a button to schedule their evaluations. When the dialog opens up, they can select a course and a date. Once they select the date, they see a list of all open slots on that date. The user can then select a slot and submit it. Their request gets recorded in the system. If the evaluator has a Google Calendar set, a calendar invite gets sent to the student for that slot.
Set Evaluators in Class
You can add evaluators to a course. But a course can be a part of many classes and each class can have a different evaluator. This restricts the evaluation workflow.
Now you can add an evaluator on a class level too. When setting up a class, you can add evaluators for against course. When a student schedules an evaluation and an evaluator is set in the class, then that evaluator is considered. If no evaluator is set in the class then the system will pick the evaluator from the course.
---